Andrea Fox (Brian's daughter) was not feeling well this week.  She went to the doctor on Tuesday, but was sent home again–possibly a virus? Wednesday early morning 4:00 am Brian and Sheryl decided to take her to the ER.  She was so weak, she had to be carried everywhere.
They started doing some tests and realized she had appendicitis.  They scheduled surgery and then realized it had already ruptured!  So, she will be in the hospital for 3-5 days.
You can pray for her recovery!
Thank God it was discovered when it was.
On the road again–to Deleware this time.  Anna and James Harvey were the promoters of the dinner concert, and it was held at Sam Yoder's Farm.  Also on the program were the Allen Harris family from Indiana(a father and two sons who sing together).
Sam's farm is a very family-friendly place to have concerts.  Jake Petersheim was in his glory–John Deere tractors are everywhere inside.  Sometimes they have tractor shows with a concert, but not this time.  Still, there are always Sam's pedal tractor display the whole way around the top of the room–75 of them (he's got 150 total).  And in the display cases around the room, he has 175 model tractors set up.  I think he said he has several hundred more at home in display cases.
Renita Petersheim and Sam Yoder made some Oregon connections this time–Sam's father grew up in Albany, Oregon, and Sam's in-laws are in McMinnville, OR.  About 10 years ago on his way up to Alaska, Sam and his wife stopped in Sheridan, OR (Renita's home town) and parked their trailer in the church parking lot while visiting friends in town.
We let the children play outside after the meal, while the guys sang.  There are cattle to visit, chickens to feed, and toads to catch.  We all really enjoyed our time there.  Sam and Anna are great hosts!
Gospel Express was invited to come do a tent crusade on the grounds of Teen Challenge, Rehresburg, PA, and Garment of Praise was invited to open up one night.  Dale Weaver from Myerstown was the moderator, and Dave Miller brought the message, "It's All About Jesus". He spoke from Hebrews 2:1-3 about not neglecting your salvation.
Before the message, Dave's family also shared a small drama regarding the spiritual gifts–funny and challenging! Nelson put in an enthusiastic word here and there, and ran the sound system (with son-in-law, Rendall Hostetler). This is a dynamic ministry and we pray God's blessings upon them.
Garment of Praise was received enthusiastically by the Teen Challenge guys, and Nelson requested one more song after they were returning to their seats.  They sang "Heaven's Joy Awaits" and got the group clapping along (this is sometimes scary–since clapping along with GOP's timing can confuse these guys

  ). After the song they got a standing ovation, and after the service, testimonies of the songs blessing them.  May God receive the glory!
Our families were at the program on Sunday night, except for Brian's eldest, Carissa.  The children enjoy being at this program, because there are places to run and play before, after, and, if they get lucky…. during the service!
What a beautiful evening for an outdoor sing!  This was the Garment of Praise's second time singing here at Fountain Park in Schaefferstown–two years ago there were thunderstorms threatening, but this time was gorgeous!   There was a nice crowd of people attending, and everyone enjoyed the program.  The hosts provided cookies and drink following the service.
It was a beautiful evening in the city of Reading.  The sun was in the guys eyes, but other than that, with the wonderful weather we've been having, we had a great night.  They sang a few newer songs,"Heaven's Joy Awaits" and "He Will Lead His Children Home"; and took requests for "Low Down the Chariot", "The Tomb Says It All", and others.
Marcus took back his spot from Danny for a few songs.  They sang "On the Resurrection Morning"–they haven't done that one too much since Danny stepped in.  Instead of singing "I'll have a new body…" Brian put in that he hoped to have "hair like Willis!" Daryl's father, Willis, does have a head full of hair, unlike Brian! They also took requests while Marcus sang with them.
After closing the official program, some of the youth and Garment of Praise had a little jam session up on the deck, singing around the keyboard and guitars.  They brought up a Fairview Christian School quartet, and sang a few with Danny and his sister, Kim Petersheim.
Update on Marcus' son Ryan:  Ryan's been getting around a lot faster lately with his scooter that he rides on.  Marcus brings it along almost wherever they go, and Ryan seems to enjoy his time a lot better.  But if you ever were nervous around a 16-year old with his license, think 13-year-old on a scooter–and watch out!:-) Ryan is almost done with a one-year trial drug for Muscular Dystrophy that he's been doing through Children's Hospital of Philadelphia.  Its been disappointing in that it hasn't seemed to help Ryan, but hopefully the time invested will help other children!  Keep Ryan in your prayers!
The Garment of Praise got together Tuesday evening, July 7, to practice for their upcoming program on July 12.  They usually practice long, loud, and late! They set up their sound system at Fairview, open the windows, and sing their hearts out.
They practiced a few new ones; "He Will Lead His Children Home", and one of Daryl's new compositions "How Can You Not?" (The GOP usually gives their own names to things… I think this one was dubbed "monkey-man").  Pics included of guys practicing, song sheet, song list.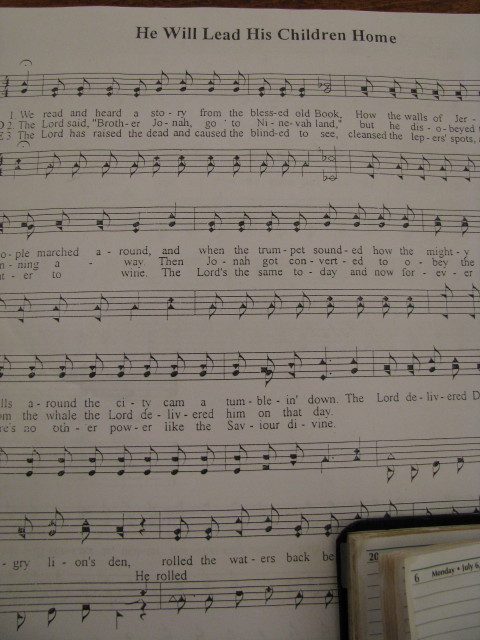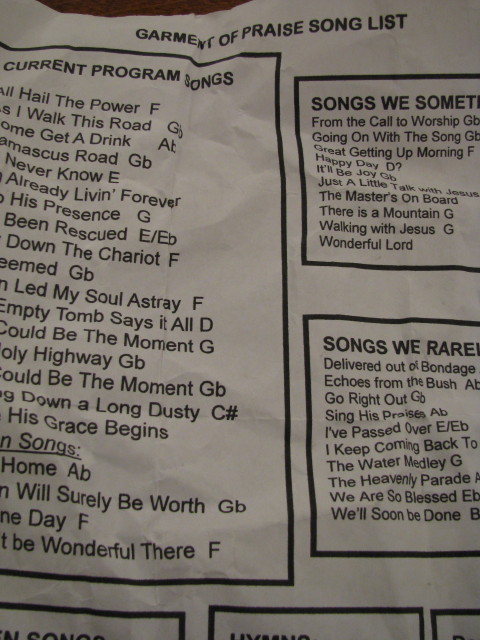 The wives visited together up at Brian Fox's house while watching the children.  There's never a dull moment with the GOP kids! (pictured (l to r): Bryce and Blake Fox (Brian's two oldest boys), and Guy Petersheim (Daryl's oldest boy).
2: Tamara Fox (Brian's), Whitney and Jacob Petersheim (Daryl's).
3. Sheryl Fox, holding onto Brooklyn Fox (Jason's) and Chrissy Petersheim (Daryl's).
Sheryl, Brian's wife, just began an extensive treatment for Lyme Disease again… Whitney, Daryl's oldest daughter, just finished getting treated for her Lyme.  She had face paralysis on one side, so she was immediately tested and treated for Lyme. Thank the Lord for her healing.
Update on Fox's oldest sister Diane: underwent surgery on July 2. They weren't able to get all the cancer out, but they were able to remove most of it.  She will do some more chemotherapy after a while.  She's recovering at home now.  The Fox's mother, Norma, has been staying up there helping in the last few days. Continue remembering Diane in your prayers.