What an evening of inspiration, worship, and fellowship! Five men's groups from PA; plus a few group members from South Carolina and Virginia came together to make an evening of unforgettable music.
All these men have a love for singing, as well as a desire to worship the Lord. Each group had about ten minutes of song and testimony individually, then after the final group, all the men joined in a mass men's choir directed by Earl Fox.
The audience filled the Ephrata Business Center, and some came from quite a distance (friends from WV were in attendance). An offering was taken up for Life Ministries, and was MC'ed by Glenn Hoover.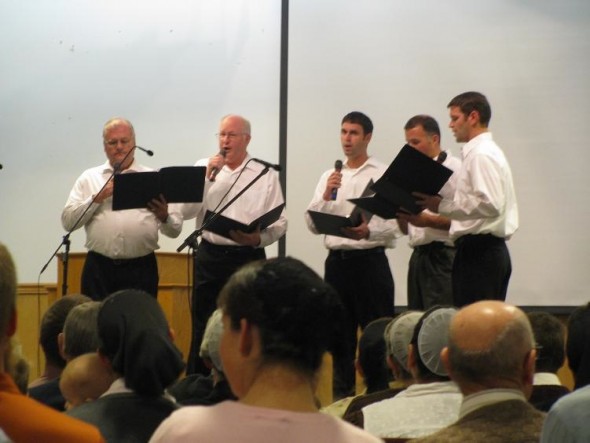 Earl Fox Five–This in not an official name, but here they are–Earl Fox, son, 2 sons-in-law, and Mike Hertzler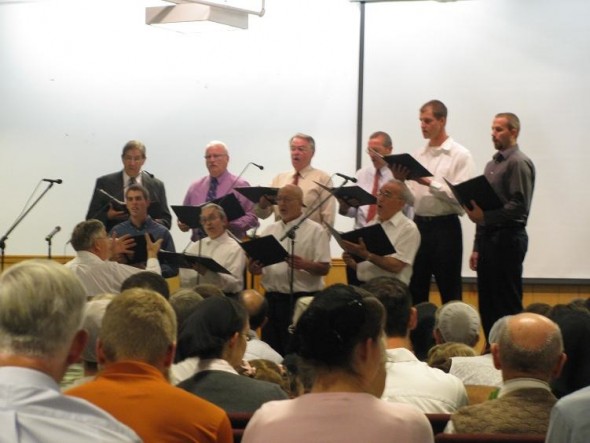 The Joyful Men Chorus from Bowmansville Mennonite Church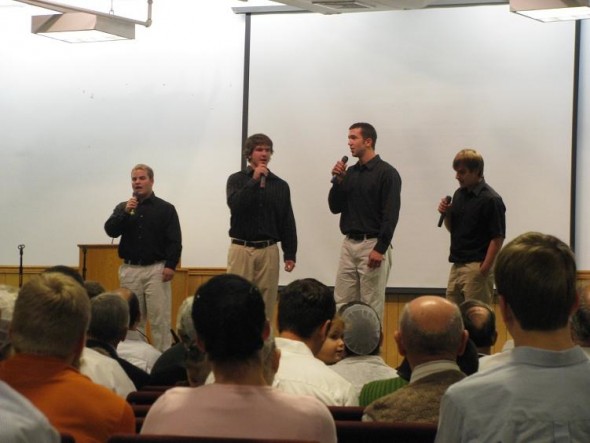 Unified Quartet–young guys from Lancaster, PA area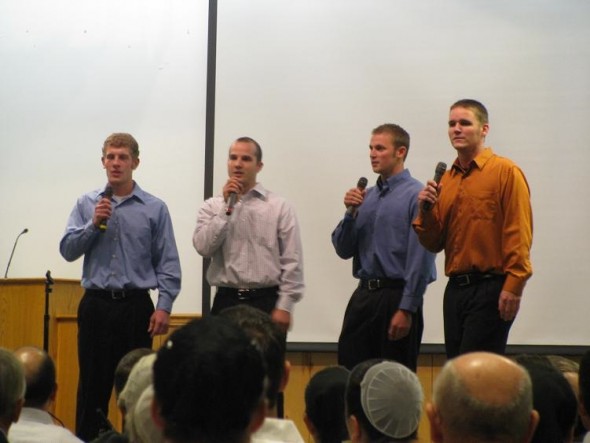 4 Ever Won don't sing together anymore, but got together to sing this evening. Its been a few years that Randy Petersheim has been gone overseas, but Jason Fox, from the Garment of Praise, filled in the baritone part.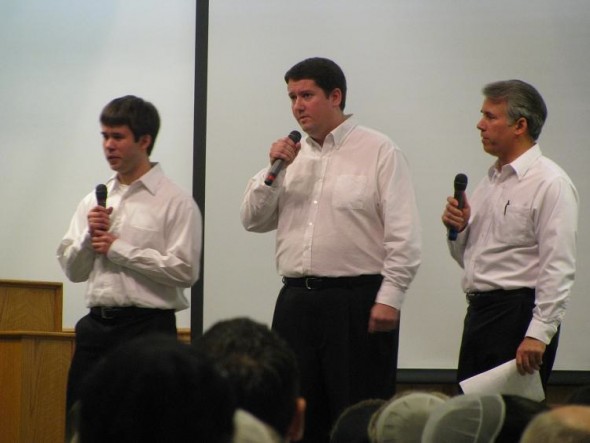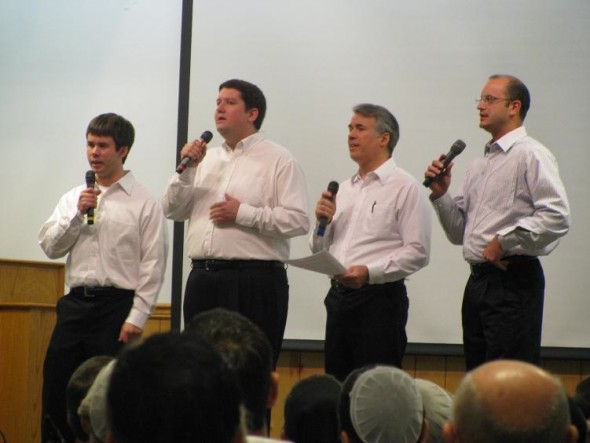 Not sure if these guy's have an official name, but they are known to us at Fairview as 'Wes Weaver's Quartet'. Its not a quartet at present, since Wes moved out to ID, but they did a great job anyway.
Brian Fox, tenor from Garment of Praise, filled in some bass on 2 songs. (The bass singing wasn't as bad as it sounds…)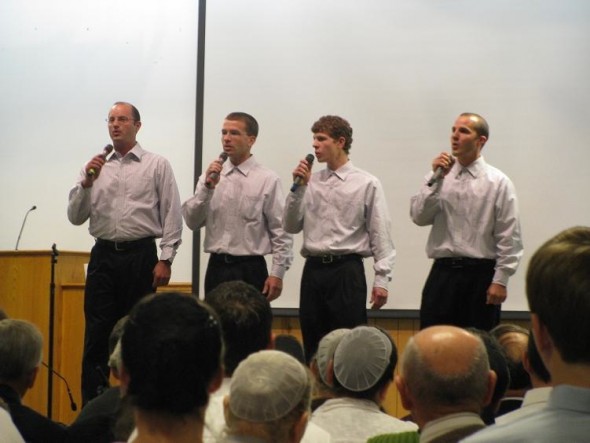 Garment of Praise sang four songs; "All Hail the Power of Jesus' Name", "I'm Free", "Where His Grace Begins", and "Gloryland".
These last two songs were very meaningful, as the Fox brothers, and the rest of us, have sister Diane on our minds. (Diane's first grandchild, a girl, "Diane", made her appearance the night before. )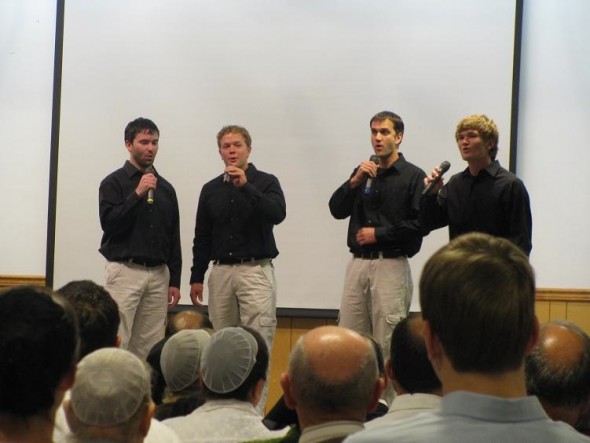 "By the Way"–this quartet was formed when the members went to SMBI together. The members are kind of spread out (one member from South Carolina, one from Virginia, the other two from Pennsylvania), but they sing together every chance they get. They held a program at SMBI the night before, and were greatly enjoyed by the audience at Quartet Fest.
They have a CD available at Gladsongs.com, as well as group member, Peter Byler has an album of self-written songs, "Oh, LORD, Hear!" A very good listen!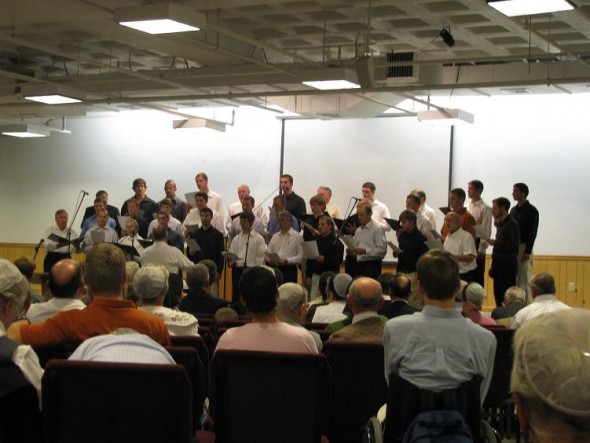 "It Is Well", "We'll Be There", and others were sung by the mass men's choir as a grand finale.
Marcus Fox, previous baritone singer of Garment of Praise, was ordained a minister of Fairview Mennonite Church on October 11, 2009.  Marcus was the deacon since August, 2003.  He joins the ministry team with his father, Jay Fox, and Ted Steinruck, the assistant pastor. God's blessings to you, Marcus, as you follow His leading!
Garment of Praise, plus a few Fox family members, went up 2 1/2 hours north of Reading to visit Diane Bigger (the oldest Fox sister). Diane was sent home from the hospital the first week of August (see Brian's post "The Last Ride Home").  The family has been visiting her as often as possible, but this was the first the Garment of Praise was able to get up there to sing to her. What a memorable concert it was!
Other family on Jeff's side were there, and everyone enjoyed the program/practice, although many tears shed by all. The guys took requests, sang some songs that they love, fun songs, meaningful songs, songs about heaven.  "Where His Grace Begins", "Going Home", and "The First Look" were very touching. Diane's testimony is shining brightly in these last hours.
All of us were able to witness her love for Jesus, her desire to go on to meet her Saviour, and her trust in God to keep her family in His hands. It was hard to pull away and go home. God be with you, Diane, and your family.
SPECIAL SIDE NOTE: Diane's daughter, Annette gave birth to a little baby girl that they named Diane on Saturday night. So Grandma Diane was able to hold her first grandchild…which was very special!