The guys rented a 15 passenger van and headed out towards South Carolina on Tuesday evening.  SNOW is the word that resonates in people's mind on the East Coast when we think of Tuesday and Wednesday, February 9 and 10.  Well, snow characterized the Garment of Praise's trip down to the prison ministry in SC.
They had to drive through the snow for the first few hours, until they crossed the Maryland line.  This added some time to their travels–it took a total of about 14 hours down to the church where they were headed.  They tried catching some sleep on the trip, ate some breakfast at Cracker Barrel, and arrived mid-morning.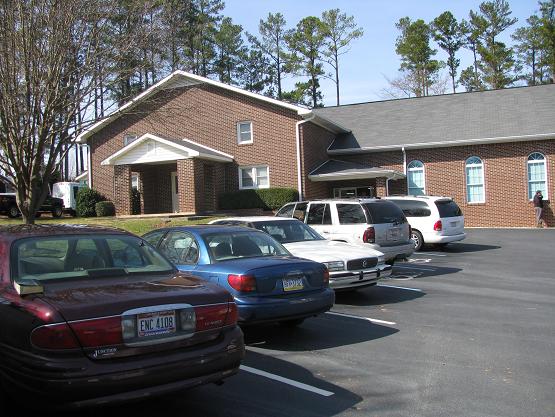 Gospel Express Ministries is in charge of this prison ministry, and does a tremendous job of planning and organizing the five days.  There are 28 prisons in SC, and this mult-prison crusade reaches 24 of them.  Each group of volunteers stays at the prison for day time interaction and meals for the entire crusade.  The singing groups and preachers minister in a different prison each night.
It was a new and interesting experience for the guys.  They met with all the other volunteers for orientation on the first morning.  There were about 500 people from all over the United States–a lot of them from Lancaster County.  They worshipped together, had workshops, and listened to one of the chaplains share about "Preparing our Vessels".  When the orientation and supper was over, each group, as well as the volunteers headed out to the area where they would be ministering for the next 4 days. 
Thusday morning, Jason and Danny went into one of the prisons with a basketball team, to play with the inmates and interract with them.  That evening the group sang and ministered at Turbeville.  Bro. Jay Fox, Brian and Jason's dad, preached.
The following morning, Daryl and Brian went along to another prison to watch the guys play basketball, but a stabbing within the prison caused "lock-down".  All the volunteers had to get out immediately, and this "lock-down" cancelled the Garment of Praise's program for Sunday morning.
That evening, snow began to fall in the south!  Most of the prisons closed because of the snow, and the volunteers could not go in.  The programs in the evenings also were cancelled.  This area in South Carolina had not seen snow since 2000, so it was disappointing to have snow hinder their ministry over this weekend! 
Friday night, because they couldn't sing in the prisons, the groups assembled to worship together and have a program.  Several of the singing groups shared that night.  The next day, they found a gym to play in, get off some energy, and waste a little time.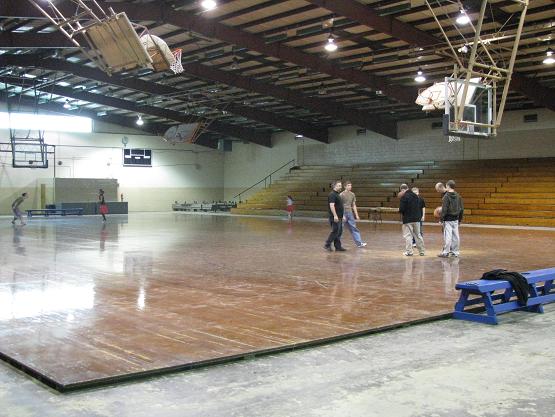 Saturday morning, because of not being able to get in, 2 bus-loads of volunteers headed home. A few prisons opened up for programs on Sunday morning, so Garment of Praise was allowed in to give a program where another group had left.
The Sunday morning program was finished at 9:00 am, and the men were on the road home by 10:00.  Because the roads were clear, the drive home was much quicker than the road down.
Pray for the inmates who made first-time decisions and recommitments to the Lord. Also, thank you for your prayers for safety on the roads to and from South Carolina.
The Petersheim family enjoyed trying their hand at recording in their own "studio".  Daryl has a small recorder that he uses for some of his songs he's written.  He sings the melody, then adds  additional parts with his own voice; this helps Garment of Praise in learning one of his new songs.
Daryl, Renita, and children decided to lay down a track of them singing their "family" songs that they've sung at a few programs.  When "God makes a yot of a yitto" (instead of a "lot of a little"), you've got to preserve that!
A couple of gentlemen from our area organized a Best of Berks Bluegrass Haiti Benefit Sing which we participated in.  Christian Leinbach, our county commisioner, was in charge of it; Wendell Yoder, Daryl's former boss, ran the sound system (his group will be singing on a subsequent night).  This was to be a two-day affair at the Schulkill Valley Bible Chapel with Pastor Steve hosting the event.  The second night was postponed till February 19th or 26th due to inclement weather. 
Schulkill Valley Bible Chapel has a mission down in Haiti, about 120 miles from Port-au-Prince.  There is a clinic there, as well as their sister church.  The city, especially the clinic, was swamped within days of the earthquake.  The Haiti Benefit Sing will send all their proceeds to this mission.  The concert charged $5 per person, and they also had donation baskets. 
It was wonderful to participate in something that was very new and different than usual.  Since it was in Northern Berks County, it was a new area for the Garment of Praise. They took a lot of requests for the old hymns, and also shared their usual numbers.  It was not specifically a "Christian" event, so it was also our privilege to present the gospel.
Garment of Praise sang at Oley Valley Mennonite Church on January 31 Sunday morning. The Petersheim family debuted their new song with their children: "God makes a lot of a little".
This church holds some fond memories for the Petersheim brothers–their dad grew up here.  Their grandparents dropped in for the service, along with Dan and Daryl's parents, Willis and Lydia.
Also, Daryl and Renita's neighbor, Rod Burkert and friend came over to Oley to attend the service.