Friday Night , July 27, 7:00 pm–
A Night of Music to Promote Living Hope International Ministries 
(Open to the public)
Sharon Mennonite Church
Saturday Night, July 28,  6:00 pm
Lighthouse Christian Fellowship
Sunday Morning, July 29,  9:30 am
Trinity Christian Fellowship
1774 East County Road 1800 N
We had a  refreshing trip to Ohio; being with old friends and singing again after a break in the schedule. It only turned exhausting on the road home, arriving back to the church around 4:00 am on Monday morning. We're grateful again for another safe trip.
We enjoyed visiting with JR and Rhonda Schlabach on our trip. We stayed at their home, and Rhonda's brother's home right next door, for the duration of our stay in OH. (JR and Rhonda had done a year of VS in Reading, then stayed for a couple more years.) It was a sweet time of fellowship and renewing friendships with them, as well as many of you all that came out to listen and encourage us!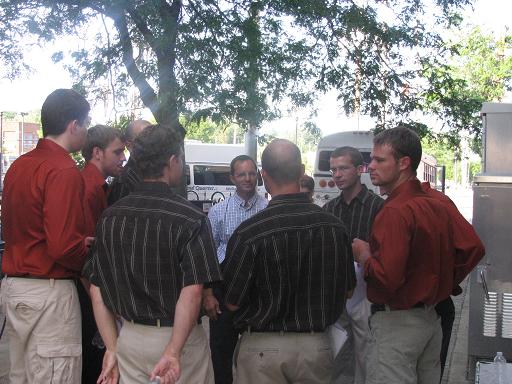 Friday evening, the guys sang in Wooster Square; an event planned by Davie Richards. Saturday evening, they sang at Chester Mennonite Church, then Sunday morning at Messiah.
Sunday after the fellowship meal for lunch, we headed east 3 hours to Cochranton, PA to Pleasantview Mennonite Church. After church, Jason and Daryl decided to tackle the job of stopping the leaking air-conditioner before the trip home. Thank you to the help from the men at church, and to God, for an easy fix!
We arrived back in Reading at 4:00 am on Monday morning. Thank you everyone for your encouraging words and hospitality during our travels. Thanks to God for the safe trip!
Following are the dates and times for our upcoming trip to Ohio. We'll be arriving in the Wooster, OH area on Friday, July 13th. Here are the details.
Friday night, July 13, 7:00pm  Wooster Square
Sat Night, July 14 7:30 pm Chester Christian Fellowship, Wooster, OH
Sunday Morning, July 15 9:30 am – Messiah Mennonite Church
     5237 OH 557, Millersburg, OH 44654
Sunday Night, July 15 6:00 pm – Pleasantview Mennonite Church
     3488 Country Line Rd., Cochranton, PA
We've changed a little since some of our pictures on the website… so pardon our exhaustion, grime, and appearances (we were experiencing a fun, hot sight-seeing trip prior to our program in NY). Here we are!
The guys enjoyed singing to the arrows campers on Thursday night, June 28 at Promised Land Camp in Conestoga, PA. As close as we could figure, this is the eighth year we've done this– and loved it every time! Danny was absent for this program; he was on a family trip to Colorado. Instead, Marcus rejoined the quartet for the evening, revisiting old songs, and jumping right into some of the quartet's new songs.
The guys finished out the night with visiting with the campers and enjoying root beer floats. Thank you to the cooks, counselors, directors, and all who make the camp possible. We were blessed to be there, as I'm sure the boys are, as well.