Ohio Trip
We loaded up the trusty bus at 7:00 am Friday morning, July 9th, and headed for Ohio.  That week had really been a scorcher for temperature in Pennsylvania with 102 degrees one day, and 100 two other days, so we were dreading the heat. We were thinking that the bus air conditioning units might not be able to keep up.  We put up our window reflectors and started cooling down the bus early.  It worked–and the sun also didn't show much of its face–so we stayed cool for the entire trip.
…maybe a little too cold…
Our first program was in the square in Wooster, Ohio, and we arrived around 5:00 for the program at 7:00pm.  Davy Richards, the host of this event, puts on a "Gospel Sing" with preaching at intermission, every year.  There was also another quartet of guys from Virginia, Higher Ground, that shared the program with us.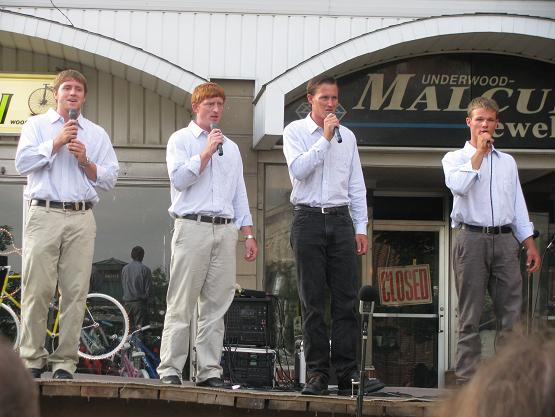 Higher Ground consists of brothers, Rodney and Jared Heatwole, Joe, and Timmy (sorry–no last names available).  Rodney and Jared's wives accompanied them on the trip and joined them on their last song "Home Free".
Always a treat, pizza is provided for the singers and their families, after the program, by Davy and Irene.  Following the fellowship after the service we headed out to various homes of Chester Christian Fellowship, where we were hosted for the night. Our children are always delighted by the good dose of farm life that they are able to observe in this community.
The following morning we drove down to Berlin, to enjoy some of the shops, and the park for the children. Then we headed over to our next program for the evening at Gospel Light in Dundee, OH.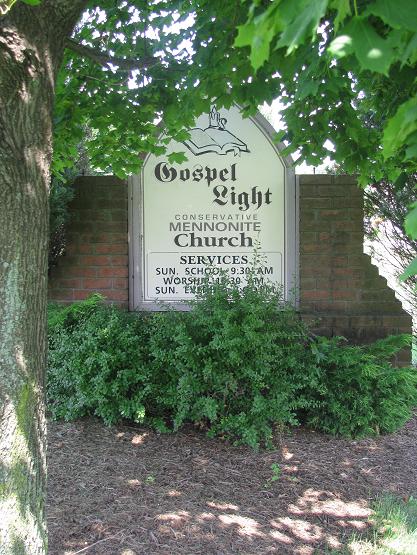 This is the home church of our good friends, David Jr. and Rhonda Schlabach, now from Fairview.  They helped arrange for us to stay at Rhonda's parents house (Since they were gone to Haiti for several weeks, we were able to have their whole house to ourselves). Rhonda's brother, Keith, along with his wife, Lori, hosted us for dinner following the service, and kept Jason's family at their house. Some of our daughters stayed at Rhonda's sister, Marilyn's house.  We were warmly welcomed and cared for.
The next morning we had a program just a half hour away at Gospel Haven.  Dennis Mullet has hosted us several times over the last 10 years, and its nice to be welcomed back to a familiar place.  Ten years ago when we sang here, the Little Friends (children and siblings of the Garment of Praise) sang along with the GOP.  As Danny said in the program Sunday morning, "You may remember me singing here before, but I was singing soprano back then."
 After a scrumptious lunch, we had to beat it out of there towards our next program.  Cochranton, PA, is our favorite place to hit on the way home from an Ohio trip, since it puts us 3 hours closer to home on a Sunday night! We unfortunately didn't have the right address to put into our GPS (we put in the pastor's house), and we also didn't have the right starting time posted on our website for the program… oops!
We shared our program in Pleasantview's newly acquired/renovated fellowship hall.  It used to be an elderly care facility, so we had some good jokes about leaving Brian here or that he felt "right at home" since he's the old man of the quartet.  We had a good service, although Daryl and Brian's voices were pretty tired out from the weekend.
It was great to visit with some of our extended family, Ryan and Shari Zook, (Renita's brother and family) who attended the program, as well as with longtime friends, Amy and Carl Wengerd (Amy taught at Fairview Christian School about 14 years ago).  We enjoyed a snack/supper, and then headed for home.  We arrived in Reading at 3:30 am on Monday–glad to be home!  Thanks to God for his travelling mercies upon us the whole trip.