Hymns – by The Garment Of Praise
Rewind your calender and lets talk about old gospel Hymns. "Hymns" – by the Garment of Praise was also released in the fall of 2008. This album is for those who cherish the old Hymns along withgood old fashion a Cappella 4 part male harmony.  A great album to add to your collection.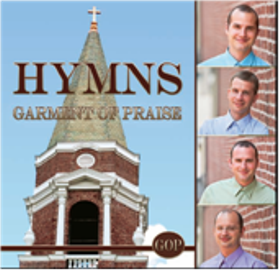 Below is a List Of Tracks On This Album.
| | |
| --- | --- |
| 1 | Redeemed |
| 2 | Tell Me The Story of Jesus |
| 3 | Oh Happy Day |
| 4 | He Hideth My Soul |
| 5 | God Leads Us Along |
| 6 | Where The Soul Never Dies |
| 7 | Till The Storm Passes By |
| 8 | There's Power In The Blood |
| 9 | I Come To The Garden Alone |
| 10 | When Peace Like A River |
| 11 | I Need Thee Every Hour |
| 12 | Sweet By and By |
| 13 | In The Beautiful City |
| 14 | Amazing Grace |
| 15 | We'll Work Till Jesus Comes |
| 16 | The Old Rugged Cross |
| 17 | O Come Angel Band |
| 18 | What A Friend We Have in Jesus |
| 19 | Farther Along |
| 20 | Have a Little Talk With Jesus |