Kingdom Come– by the Garment of Praise
Here is our new, long-anticipated, latest CD; Kingdom Come. You'll find easy-listening, uplifting a cappella music on a total of 14 tracks.  Contained on this CD;  4 brand-new songs penned by Daryl, a song with our choir back-up, a hymn and other favorites, including a spiritual. If you enjoyed Jason's recitation on "The Cross Still Stands" from "A Better Way" album, you'll enjoy the new "Be Strong".  Be encouraged and blessed!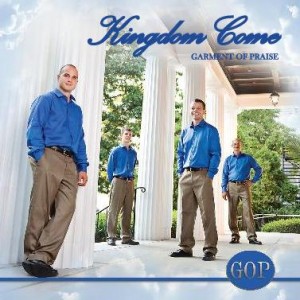 Below is a list of tracks on this album.
1. I Just Came (To Say I Love You)
2. As It Is In Heaven
3. I'm Free Again
4. All Hail the Power of Jesus' Name
5. Saved
6. It's About the Cross
7. I'm Already Living Forever
8. It's Enough Just to Know
9. Knock No More
10. There Is a Kingdom Comin'
11. Be Strong
12. This is Just What Heaven Means To Me
13. Wading in the Water
14. What a Meeting in the Air