About Us

Brian Fox family:
Brian and his wife, Sheryl, have 6 children: Carissa (recently married to Arlin King), Andrea, Tamara, Bryce, Blake, and Marshall.
Birthday: January 27, 1971
Singing Part: Tenor
Vocation: Teacher at Fairview Christian School
Favorite Drink: Coffee
Favorite Hymn: Great Is Thy Faithfulness
Favorite Song to Sing: The Empty Tomb Says It All
Musical Influences: My dad, Jay Fox; Roger Bennett; George Younce
Hobbies/Past Time: Coaching basketball; Anything with my family
Favorite Verse: "But God, who is rich in mercy, for his great love wherewith he loved us, even when we were dead in sins, hath quickened us together with Christ, (by grace ye are saved;) And hath raised us up together, and made us sit together in heavenly places in Christ Jesus." –  Ephesians 2:4-6
Most Embarrassing Moment: Blowing the ending to "Wish You Were Here"
Highlight of Singing: The week of singing in Grenada
Pet Peeve: Getting bumped into while slumbering on my lazy boy recliner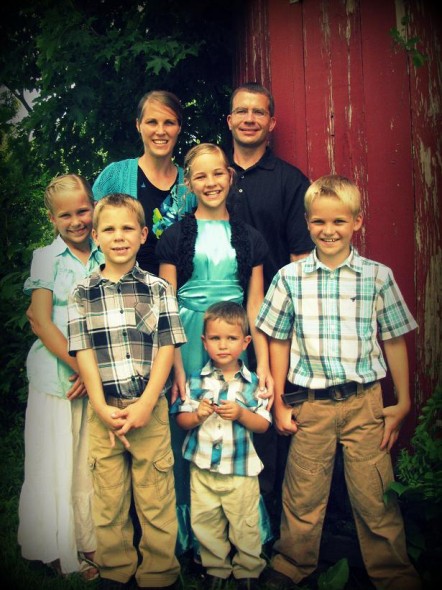 Daryl Petersheim family:
Daryl and his wife, Renita, have 5 children; Whitney 13, Guy 11, Chrissy 8, Jacob 7, and Darien 3.
Birthday: March 13, 1979
Singing Part: Lead
Occupation:  Project assistant at Wexcon Inc. (an excavating company)
What is something folks may not know about you? I can't read music very well.
Who is the group member most likely to spill something on themselves? Brian
What is your strongest character trait? Merciful
Long after you're gone, what do you hope people can say about you? That something I did, said, or sang, made a difference in their life.
Who has had musical influence on you? parents, church, school, and many others.
What is the personal philosophy by which you live? All things in moderation!
Who does everyone in the group turn to if they forget the words to the songs? Me (I think…. actually, I can't remember!)
Who would cope best if stuck on the bus in a blizzard for three days? Brian!  He feels at home in anything held together with duck tape and bungee cords.  The blizzard might be a problem though, if he didn't have his pelonis heater along.
What do you do on the bus to pass the time during travel? Yes, there is no passing cars, so there is a lot of passing time. I would say the thing I do most is endure!
There are 3 sandwiches and 4 men. Who would say they weren't hungry? Good question!
What do you enjoy doing in your spare time? Since I don't have any, I will tell you waht I enjoy doing with my time: hearing an awesome song for the first time, landscaping around the house, dating my wife, relaxing with the family.
What's your favorite thing about living where you do? It's not close to Brian OR Jason. (or much of anyone else!)
What is your favorite song to sing? or your favorite to listen to? I would have to update this about two times a year, but right now my #1 and #2 songs are "Grace Will Always Be Greater Than Sin" and "If You Knew Him".

The Jason Fox family
Jason and his wife, Denise, have 5 children: Caitlin 21, Molly 18, Brooklyn 5, Dallas 4, and Addison 4 months (not pictured yet).
Occupation:  Fairview Christian School principal
Singing Part: Bass
What is something folks may not know about you?  I sleep with my pillow over my head
Who is the group member most likely to spill something on themselves?  Brian
What is your strongest character trait? honesty
Long after you're gone, what do you hope people can say about you?  That I loved my Saviour most of all, cared for people and not money, and always had a smile on my face
Who has had musical influence on you?  Dad (Jay Fox)
What is the personal philosophy by which you live? In that which you do, do it to the best of your God-given ability.
What is your definition of success? passing the faith onto my children
Who does everyone in the group turn to if they forget the words to the songs?  Brian
Who would cope best if stuck on the bus in a blizzard for three days? Dan
What do you do on the bus to pass the time during travel? talk–I talk a lot!
There are 3 sandwiches and 4 men. Who would say they weren't hungry? Daryl
What do you enjoy doing in your spare time?  Singing, coaching basketball, and dating my wife (and not in that order)
What's your favorite thing about living where you do? I live in the City of Reading, so I have many opportunities to share Jesus Christ by my words and actions.
What is your favorite song to sing? or your favorite to listen to? "Saved by the Blood."

Danny Petersheim
Wife: negative
Children: none
Family: Dad, Mom, and younger sister, Kim, at home
Occupation: 6-7 grade classroom supervisor, highschool teacher
Singing Part: Baritone
What is something folks may not know about you? I enjoy bird watching
Who is the group member most likely to spill something on themselves? Definitely Brian
What is your strongest character trait? forgiving
Long after you're gone, what do you hope people can say about you? That there's no question that I lived and breathed to honor my Saviour
Who has had musical influence on you? Parents, and the other three Garment of Praise members
What is the personal philosophy by which you live? "Live in light of eternity."
What is your definition of success? When those I know best respect me the most
Who does everyone in the group turn to if they forget the words to the songs? Probably Brian
Who would cope best if stuck on the bus in a blizzard for three days? me
What do you do on the bus to pass the time during travel? read
There are 3 sandwiches and 4 men. Who would say they weren't hungry? Daryl or Jason (Jason would probably say it first)
What do you enjoy doing in your spare time? What's "spare time"?
What's your favorite thing about living where you do? It's free!
What is your favorite song to sing? or your favorite to listen to? The Love of God (Is Greater Far)