A Better Way – by The Garment Of Praise
"A Better Way" is our newest standard project. It features 4 brand new songs penned by Daryl Petersheim, a spiritual, 2 songs backed up by our choir, and some good straightforward quartet singing-a total of 15 songs that will encourage, bless and strengthen.  We all worked hard to raise the bar a bit, and I don't think you'll be disappointed.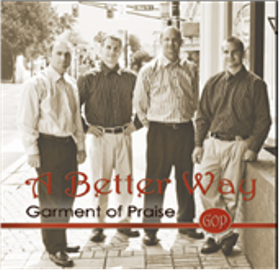 Below is a List Of Tracks On This Album.
| | |
| --- | --- |
| 1 | Damascus Road |
| 2 | I'm Gonna Leave The Light On |
| 3 | Low Down the Chariot |
| 4 | I'll Never Know (written by GOP member Daryl Petersheim) |
| 5 | Well of Grace |
| 6 | This Could Be The Moment (written by GOP member Daryl Petersheim) |
| 7 | I'll Never Walk Alone |
| 8 | The Cross Still Stands (written by GOP member Daryl Petersheim) |
| 9 | Walking With Jesus |
| 10 | Going On With The Song |
| 11 | The First Look |
| 12 | Jerusalem |
| 13 | If You Died Tonight |
| 14 | A Song About Heaven (written by GOP member Daryl Petersheim) |
| 15 | Going Home |